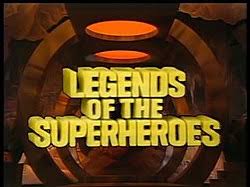 Legends of the Superheroes is a series of two live-action TV specials produced by Hanna-Barbera for NBC in 1979. It features characters from DC Comics.
Plot
These specials follow the adventures of many of DC Comics' greatest superheroes and villians. In the first episode, "The Challenge", the superheroes must race against time to stop the diabolical supervillians' plot to destroy the world. In the second episode, "The Roast", the superheroes pay tribute to Batman and Robin in the form of a roast which even the villains attend.
Cast
Jeff Altman as the Weather Wizard
A'leisha Brevard as Giganta
Ruth Buzzi as Aunt Minerva
June Gable as Rhoda Rooter
Charlie Callas as Sinestro
Pat Carroll as Esther Hall, Hawkman's mother
Garrett Craig as Captain Marvel
Gabriel Dell as Mordru
Frank Gorshin as the Riddler
Rod Haase as the Flash
Barbara Joyce as the Huntress
Ed McMahon as the toastmaster
Howard Morris as Dr. Thaddeus Bodog Sivana
Mickey Morton as Solomon Grundy
Howard Murphy as Green Lantern
Bill Nuckols as Hawkman
Gary Owens as the narrator
Brad Sanders as Ghetto Man
William Schallert as Retired Man
Burt Ward as Robin
Marsha Warfield (uncredited) as the woman in the phone booth
Alfie Wise as the Atom
Trivia
The producers were unable to use the characters of Superman and Wonder Woman (featured in the original Super Friends) since Superman had just been launched into a film franchise, and Wonder Woman had her own series on another network.
External links
Community content is available under
CC-BY-SA
unless otherwise noted.