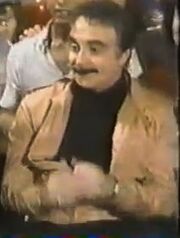 Marty Ingels
(born Martin Ingerman, March 9, 1936–October 21, 2015) was an American actor and talent agent, best known as Arch Fenster on the 1960s sitcom
I'm Dickens, He's Fenster
. He played three character roles for Hanna-Barbera, all on
ABC
:
Autocat
in the
Motormouse and Autocat
segments of
Cattanooga Cats
,
Beegle Beagle
on
The Great Grape Ape Show
and the title role on
Pac-Man
.
Biography
Marty Ingels had an older brother named Arthur. He had a rough childhood and was often picked on. After he finished school, he went into the Army. Later, he appeared in a couple of game shows and won. He wanted to be an actor so he went to California. He lived with another guy and actually ended up dating and eventually marrying his roommate's girlfriend.
Ingels made a couple of movies, but made it big when he starred with John Astin in I'm Dickens, He's Fenster (1962). Soon after the show went off the air, Ingels and his wife divorced.
Ingels met and married Shirley Jones and became stepfather to Shaun, Ryan and Patrick Cassidy, her sons from her marriage to Jack Cassidy. He worked some, but Shirley was primarily the breadwinner. Eventually he started putting some money away and in a couple of years, he was able to accumulate over a million dollars. In 1999, he and Shirley separated for six months, but then got back together. Until his death in 2015, they lived in Encino, California, with three dogs.
External links