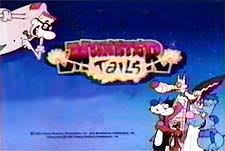 Monster Tails is an animated segment on Wake, Rattle & Roll. It is about a group of pets who live in a castle in Transylvania with their guardian Igor Jr. (voiced by Charlie Adler), the son of Igor (Iggy for short). They had similar personalities to their masters, who are in Hollywood making movies.
Characters
Igor "Iggy" Jr.(voiced by Charles Adler) is the hunchbacked son of Igor and the monster pets' guardian. He tries to be the boss.
Frankenmutt (voiced by Frank Welker): He is the dog of Frankenstein's Monster. He has incredible strength, organ-playing abilities and the brain of a genius, literally.
Elsa (voiced by Pat Musick): She is the pet dog of the Bride of Frankenstein. Elsa has the brain of a parrot and a crush on Frankenmutt.
Catula (voiced by Charlie Adler): He is Count Dracula's cat. Although arrogant, Catula is a master of magic and transformations, usually.
Mumfrey (voiced by Frank Welker impersonating Woody Allen): He's the Mummy's dog. Mumfrey is a constant insomniac.
Dr. Veenie (voiced by Jonathan Winters): He is a brilliant scientist like his master, Dr. Jekyll. But whenever he sneezes, he transforms into the superstrong but berserk Mr. Snyde (who is like Dr. Jekyll's alter ego, Mr. Hyde).
Angel (voiced by Pat Musick): The pet goldfish of the Creature from the Black Lagoon. Angel is a ghost because she was eaten by a shark. Angel tends to shout at the end of every sentence.
Episodes
Pet Styles of the Rich and Gruesome -
Purple Brain -
Elsa Dearest – After ingesting a formula made By Mr. Snyde, Elsa becomes as evil as she's obsessed with cleaning, annoying Catula, Frankenmutt, Iggy, and Veeny.
Sleepwalk, Don't Run – Mumphrey while trying to sleep, sleepwalks, getting Him, and His fellow monsters into calamity.
Journey to the Center of Iggy-
To Leech His Own- Catula tries to rid the castle of a leech that's been drinking up His Tomato juice supply.
The Moatside Bassanova- A moat monster becomes obsessed with romancing Angel, who doesn't want to have anything to do with him.
Mighty Iggy at the bat -
Pet-refined Fortress
Monster Olympics
Driving Mr. Iggy
Ma Igor
Curse of the Mumphrey
Mayhem
Mumphrey's the Word
Garbage mouth
Tse-tse, tse-tse, goodbye
Goodbye, Mr. Chump
The Minus touch
Dr. Veeny's beanie
Night of the Living Food
Mumphrey's big sleep
The Flea
Attack of the Monster Shadows
Luck, Don't Leap
The Counter mental divide
Dog Date Afternoon
That darn Yarn
New Corpses on the Slab-When Iggy is unable to get tickets for his favorite band, the monster pets become a band and instantly becomes famous.
Community content is available under
CC-BY-SA
unless otherwise noted.