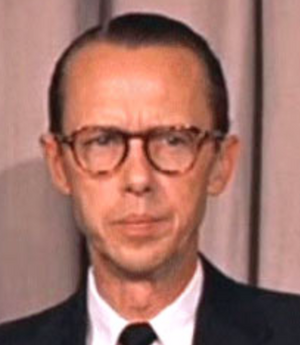 Olan Evart Soule (February 28, 1909–February 1, 1994) was an American actor. For Hanna-Barbera, he worked on Super Friends as the voice of Batman and miscellaneous characters, usually scientists.
Biography
Olan Soule ("soo-LAY") was a character actor supreme, one who can be seen on reruns of Dragnet (1951), Dragnet 1967 and The Andy Griffith Show (1960) almost any day of the week.
Born in La Harpe, Illinois, to Elbert and Ann Williams Soule, he descended from three Mayflower passengers. He left Illinois at age seven, moving to Des Moines, Iowa, until he was seventeen, when he launched his theatrical career joining the Jack Brooks tent show out of Sabula, Iowa. After leaving the tent show, Olan Soule was on stage in Chicago for seven years when he became involved in radio work in 1933. He was in the program Bachelor's Children for ten years and, when the show moved to California, Soule became involved in film and television work.
Soule was the first actor to voice Batman in animation. He voiced the character in two episodes of The New Scooby-Doo Movies and in all of the Superfriends series except The Super Powers Team: Galactic Guardians.
External links
Community content is available under
CC-BY-SA
unless otherwise noted.