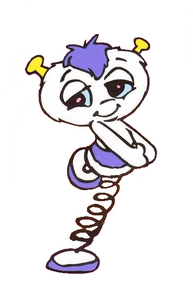 Orbitty is a little white alien on The Jetsons. Appearing only in the 1980s television episodes, he was voiced by Frank Welker.
He appears in television series, crossovers television series, movies and specials, he is voiced by Diane Michelle. He belongs to the species "Satellitus craterus orbitus".
History
Orbitty is a white alien with his spring-like legs and his suction-cup feet. And his body changes colors, light red is happy, yellow is scared, black is mad, pink is affectionate, blue is sad and green is jealous.
Appearances
"Elroy Meets Orbitty"
"Rosie Come Home"
"Judy's Birthday Surprise"
"Family Fallout"
"Instant Replay"
"Fugitive Fleas"
"One Strike, You're Out"
"S'No Relative"
"Dance Time"
"Judy Takes Off"
"The Mirrormorph"
"The Cosmic Courtship of George and Jane"
"Hi-Tech Wreck"
"Little Bundle of Trouble"
"Elroy in Wonderland"
"The Swiss Family Jetson"
"Fantasy Planet"
"Space Bong"
"Haunted Halloween"
"Astro's Big Moment"
"Jetson's Millions"
"The Wrong Stuff"
"Future Tense"
"Far-Out Father"
"Dog Daze Afternoon" (does not speak)
"Grandpa and the Galactic Golddigger"
"To Tell the Truth"
"Boy George"
"Judy's Elopement"
"The Century's Best"
"A Jetson Christmas Carol"
"Two Many Georges" (does not speak) (He is voiced by Diane Michelle)
"The Jetsons Meet the Flintstones" (deleted scene)
"Back to the Present" (He is voiced by Diane Michelle)
"Juror in Court" (He is voiced by Diane Michelle)
"The Jetsons (film)" (He is voiced by Diane Michelle)