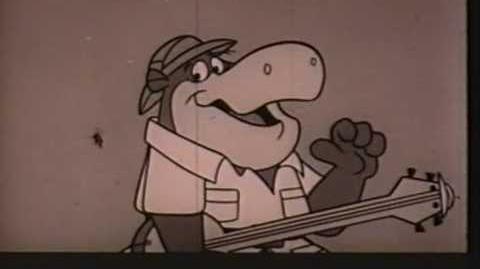 Peter Potamus and His Magic Flying Balloon
, also known as
The Peter Potamus Show
, is an animated series produced by Hanna-Barbera for first-run syndication. It was first broadcast in 1964 and ran for three seasons.
In the 1970s, Peter Potamus became a supporting character on Yogi's Gang and made a cameo in the Laff-a-Lympics episode: India and Israel.
Segments
Peter Potamus: In the main segment, Peter and his sidekick, So-So the monkey, traveled around the world in their hot-air balloon.
Breezly and Sneezly: A polar bear named Breezly Bruin and his droopy friend Sneezly the Seal devise various plans to break into the local army camp for various reasons while trying to stay one step ahead of the army camp's leader, Colonel Fusby.
Yippee, Yappee and Yahooey: Three Musketeer-like dogs work as guards for their king.
Voice cast
Episodes
DVD release
On October 4, 2016, Warner Archive announced the release of a three-disc Peter Potamus DVD set as a manufacture-on-demand title. On October 19, Warner Archive announced a November 1 release date for The Peter Potamus Show.
External links
Community content is available under
CC-BY-SA
unless otherwise noted.