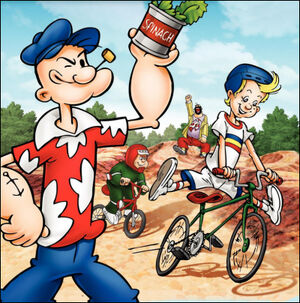 Popeye and Son is a Saturday-morning cartoon produced by Hanna-Barbera for CBS in 1987. In this series, Popeye and Olive Oyl were married, with a ten-year-old son who didn't share Popeye's love of spinach. Bluto also had a wife and son.
Voice cast
Episodes
Attack of the Sea Hag
Happy Anniversary
The Sea Monster
Poopdeck Pappy and the Family Tree
Bluto's Wave Pool
Here Today, Goon Tomorrow
Don't Give Up the Picnic
The Lost Treasure of Pirate's Cove
Junior's Genie
Mighty Olive at the Bat
Junior Gets a Job
Surf Movie
Redbeard
The Girl from Down Under
Junior's Birthday Roundup
Olive's Dinosaur Dilemma
Dr. Junior and Mr. Hyde
Popeye's Surfin' Adventure
Split Decision
The Case of the Burger Burglar
Orchid You Not
Ain't Mythbehavin'
There Goes the Neighborhood
Olive's Day Off
Prince of a Fellow
Damsel in Distress
Notes/Trivia
A French-dubbed version of this series, titled Popeye et Son Fils, aired on the French CBC network in Canada around 1989.
External links
Community content is available under
CC-BY-SA
unless otherwise noted.