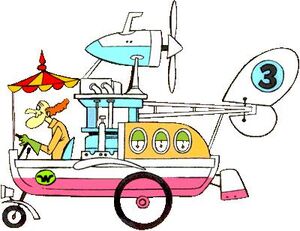 Professor Pat Pending is a character on Wacky Races.
About Pat
He is a scientist who drives #3, a boat-shaped vehicle called Convert-a-Car, which is equipped with a multitude of gadgets and which can change into just about anything that moves in Wacky Races. He's sometimes a rival of Dick Dastardly and Muttley, since his car is equipped with a lot of gadgets, just like the Mean Machine, although they are more defensive, or merely speed-boosting, in nature. He often uses his car's gadgets to help out the other drivers if they all get caught in the same trap, such as when he used his car's de-glue gizmo to unstick everyone from a glue trap left by Dastardly.
"Pat Pending" is an abbreviation for "Patent Pending", a legal phrase for when an invention's patent papers are in the works.
The Convert-a-Car Gadgets
Hot Air Balloon
Stilles
Sail with Wind Blower
Spring
Jet Car
Do It Yourself Cannon Crosser (Brigde)
Giant Drill
Freeze Gun
Frog Legs
The Convertible Turtle Top (Turtle Shell Car)
Bowling Ball
Macaical Legs
Boat
Back wheels rise the car up
Triple Dribble Power (Basket Ball)
Pogo Power
Scrambler Power (Motorbike)
Mechanical Boot Kicker
Mechanical Hand Helper
Copy of the Slag Brothers
Forklift
Jet Pack
Steeple Chase Horse Power (Wheels turn into mechanical horse legs)
Super Pancake Flipper
7 League Boot Power (Two Big Boots for the Wheels)
Bow and Arrow Power
Pool Cue Gadget
Ditch Digger
Bicycle Built for Two
Blimp Power
Flying Carpet on Wheels
Straw
Yo-Yo Power
Vacuum Cleaner Power
Air Horn
Scissor Power
Fly Swat
Rocket
Bubble Power
Snow Plow
Ski Boat
Magnet
Gallery
Community content is available under
CC-BY-SA
unless otherwise noted.