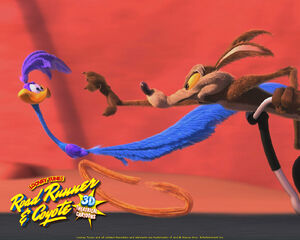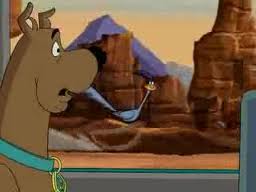 Wile E. Coyote and Road Runner are cartoon characters from a series of Looney Tunes and Merrie Melodies cartoons produced by Warner Bros., while the template for their adventures was the work of writer Michael Maltese. The characters star in a long-running series of theatrical cartoon shorts (the first 16 of which were written by Maltese) and occasional made-for-television cartoons.
The series lampoons nature documentaries, where instead of animal senses and cunning, the Coyote uses absurd contraptions and elaborate plans to pursue his quarry.[citation needed]
The "E" in his name was said to stand for Ethelbert in one issue of a Looney Tunes comic book, but is actually a play on the word "wily". This was its only appearance, so if it was true is unknown. The coyote's last name is routinely pronounced with a long "e" ( "ky-O'-tee"), but in "To Hare Is Human", Wile is heard pronouncing it with a long "a" ("ky-O'-tay") to sound refined.
The Coyote has separately appeared as an occasional antagonist against Bugs Bunny in five shorts: "Operation: Rabbit", "To Hare Is Human", "Rabbit's Feat", "Compressed Hare", and "Hare-Breadth Hurry". While he is generally silent in the Coyote-Road Runner shorts, he speaks with a refined accent in these solo outings (except for "Hare-Breadth Hurry"), introducing himself as "Wile E. Coyote - super genius", voiced by Mel Blanc. The Road Runner vocalizes only with a signature sound, "Beep, Beep" (sometimes "Meep Meep"), and an occasional tongue noise. The "Beep, Beep" was recorded by Paul Julian.
To date, 45 cartoons have been made featuring these characters, the majority by Chuck Jones.
Hanna-Barbera Connections
In the What's New Scooby-Doo? episode "New Mexico, Old Monster", Scooby-Doo sees both Road Runner and Wile E. within their usual desert chase out the window of the Mystery Machine. After the usual failure by Wile E., it left Scooby to be saying "beep-beep."
They were also featured in a new Looney Tunes cartoon in 3D called "Rapid Rider", paired with the live-action film of Yogi Bear.
Wile E. Coyote is mentioned but not seen in Cartoon All-Stars to the Rescue, but his time machine was used by Bugs Bunny.
Community content is available under
CC-BY-SA
unless otherwise noted.