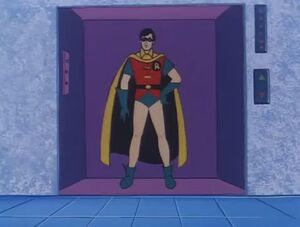 Robin the Boy Wonder (real name Richard John "Dick" Grayson) is a character in The New Scooby-Doo Movies and SuperFriends. He was voiced by Casey Kasem.
Dick Grayson was introduced in Detective Comics #38 (1940) by Batman creators Bill Finger and Bob Kane as (the first) Robin. The sidekick debuted only a year after Batman and was part of an effort to soften the character of his mentor, originally a dubious, night-stalking vigilante. DC Comics also thought a teenage superhero would appeal to young readers.
About Robin
Robin was the original sidekick of Batman.
Robin is black-haired Caucasian teenaged male with an athletic build. He wears a black domino mask, a yellow cape, a green undershirt with green gloves, shoes and briefs, a red overshirt with a yellow R in the black-circle, a black utility belt with a yellow buckle and flesh colored tights.
Gallery
External Links