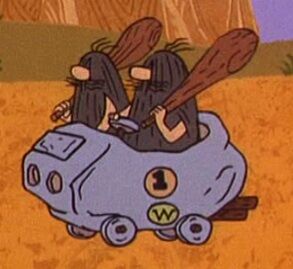 Rock Slag and Gravel Slag are two racers in Wacky Races.
About the Slag Brothers
Their vehicle is the #1 car, the Boulder Mobile. When they need to speed up, they either use their clubs or run at top speed.
The Slag Brothers will usually reconstruct it from scratch simply by using their clubs on any large boulder they can find. The Slag Brothers can also summon up a Pteranodon to help them. They accelerate by hitting the car (or at times, each other) with their clubs. They will sometimes directly attack other drivers with their clubs or by launching rocks at them.
Trivia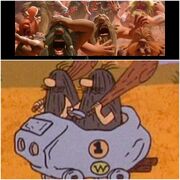 The Slag Brothers make an Easter Egg cameo appearance in Scoob! in the crowd of cavemen and cavewomen in the Prehistoric arena in Messick Mountain, laughing at Scooby and cheering for Captain Caveman. The Slag Brothers also appear during the end credits on the Boulder Mobile in an image next to Dastardly's cell wall.