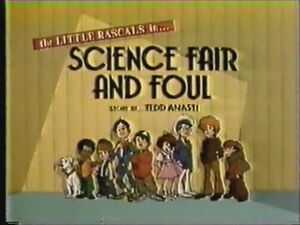 Science Fair and Foul is the second segment of the twelfth episode of The Little Rascals.
First aired: 11 December 1982
Story by: Tedd Anasti
Duration: 11 minutes
Cast
Summary
Spanky and Alfalfa are playing baseball, but the ball ends up in Buckwheat's garage, where Buckwheat is creating a robot for the school's annual science fair. Buckwheat wants the boys to take an oath of secrecy and vow not to reveal the project to anyone. Trouble mounts as Waldo, accompanied by Darla, approaches the gang, bragging about his science fair entry: a solar-powered ice cream machine. After Waldo departs, Spanky talks Darla into going in on the secret.
After Buckwheat quits for the night, the Rascals tiptoe into Buckwheat's garage and see the robot for themselves. Each of the Rascals tests out the robot, but disaster arises when Porky's garbled speech causes the robot to malfunction, and the Rascals realize they're in trouble, and have to think of a cover-up, and fast.
When the day of the science fair arrives, Alfalfa and Spanky are inside the robot, but when an ant farm is destroyed and ants end up attacking Alfalfa, they are scared. After they wreck the merry-go-round in their panic, the boys are revealed to be inside the robot. Though Waldo accuses Buckwheat of cheating, Buckwheat quickly rebuilds the merry-go-round by attaching a television set (which was Mechman's head) to it. The judges are impressed with Buckwheat's ability to improvise, but Waldo is not, and Buckwheat uses his trophy to deflect Waldo's ice cream missiles. Afterward, Buckwheat embraces the trophy he has won.
Notes/Trivia
Frank Welker's voice characterization for Mechman is similar to one he used for a few characters in the 1970s, such as Chopper on Wheelie and the Chopper Bunch and the Crime Globe on The Super Globetrotters.
Although Porky's garbled speech caused the robot to malfunction, Darla may have been the root of the problem, since she reluctantly went in on the secret promise that the boys had made.