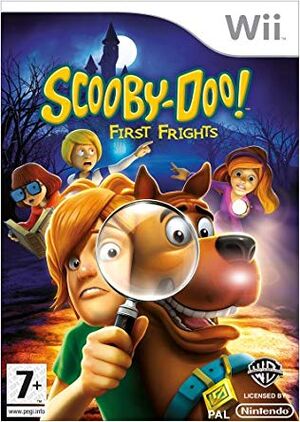 Scooby-Doo! First Frights is a video game published in 2009 by Warner Bros. Interactive for Nintendo Wii, Nintendo DS and Sony PlayStation 2. It was developed by Torus Games Pty. Ltd.
Gameplay
Scooby-Doo! First Frights is an action platform game that puts the player in the shoes of Mystery Inc. during some of their first mysteries. Scooby-Doo and the gang explore spooky locales such as Rocky Bay, Keystone Castle and others. The player has to collect clues, solve puzzles, and fend off creepy creatures. After collecting clues, the player gets to choose who he or she thinks is the villain behind each episode. A correct guess grants an additional bonus item.
Co-op play allows players to drop in or drop out as they please. The game also features dozens of unlockables including trophies and character costumes with unique powers. Other unlockables include over 20 costumes and playable villains.
The game features four unique episodes to play through, each with a chase sequence and final boss battle. They comprise over 20 different levels spanning a larger variety of environments, such as a spooky forest, crazy fun house, creepy castle, haunted high school, and others.
The game features two different game modes. "Story Mode" gives the player a specific character to play through the core story of the game. Players can return to any level they've previously beaten in "Explore Mode" to collect additional hidden items with any unlocked character.
Foreign titles
French: Scooby-Doo! Opération Chocottes
German: Scooby-Doo! Geheimnisvolle Abenteuer
External links