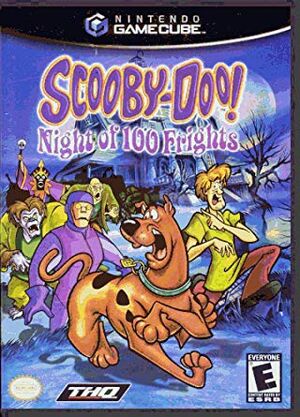 Scooby-Doo! Night of 100 Frights is a third-person platform game with action elements that was developed by Heavy Iron Studios and published by THQ for the PlayStation 2, GameCube and Xbox consoles. The game was first released 20 May 2002, in North America and was released later that year in other regions. It is the first Scooby-Doo video game title to come to sixth-generation consoles. The game became a Greatest Hits title in 2003. The game had a followup titled Scooby-Doo: Mystery Mayhem.
Story
Scooby-Doo searches for the rest of the gang around a Haunted Mansion after they were kidnapped by an eccentric villain.
Gameplay
The game has twelve levels, ranging from graveyards and secret labs to fishing villages and haunted mazes.
Reception
The game opened to mixed reviews from critics, mainly criticizing the game's simplicity, although its massive environment staying true to the Scooby-Doo universe was praised by critics and fans alike. Fans of the original show loved Scooby-Doo! Night of 100 Frights, feeling it was compensation for the N64 game released in 2000.
Trivia
The game also marks the only time Don Knotts did voice work for a video game.
Voice Cast