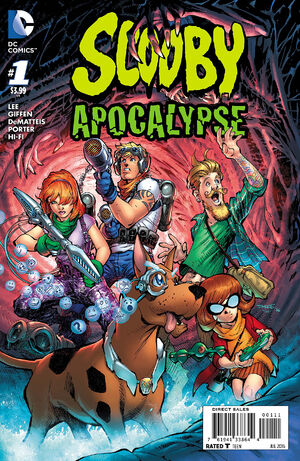 Scooby Apocalypse is one of four comic book titles introduced by DC Comics in 2016, along with Future Quest, Wacky Raceland and The Flintstones. The first issue was released on May 25, 2016.
Unlike previous Scooby-Doo comic books, which were designed for readers of all ages, Scooby Apocalypse has a teen-plus rating.
Overview
Those meddling kids—Fred, Daphne, Velma, Shaggy and their dog, Scooby-Doo—get more ghost-debunking than they bargained for when they encounter fundamental change in their world. The apocalypse has happened. Old rules about logic no longer apply. The creatures of the night are among us, and the crew of the Magical Mystery Machine has to fight to survive—because in the apocalyptic badlands of the near future, the horrors are real!
This new monthly series takes Scooby and the gang to a whole new level and features character designs by comics superstar Jim Lee!
External links