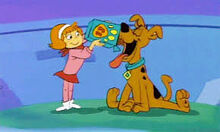 Scooby Snacks (sometimes spelled Scooby Snaks or Scooby Snax) are, as the name implies, dog biscuits offered to Scooby-Doo as an incentive to help in solving the current mystery. The snacks could be offered by Fred, Velma or Daphne. Sometimes Shaggy would catch and eat a Scooby Snack as well.
On A Pup Named Scooby-Doo, it was revealed that Scooby Snacks were made in a factory expressly for Scooby-Doo, itself the basis of an episode about a rival dog-biscuit maker conspiring to put the Scooby Snack Factory out of business by stealing its secret recipe.
Circa 2005, Keebler was licenced by Hanna-Barbera to produce Scooby Snax, marketed on TV with the strapline "Feed your inner Doo."
The lore behind the Scooby Snack
In the annals of Hanna-Barbera lore, nothing has inspired more debate and speculation among fans as to what exactly Scooby Snacks/Snax are, and what they contain, some even suggesting that they're really some sort of marijuana brownie, an assertion Hanna-Barbera has repeatedly denied. This hasn't stopped some recipes for "Scooby Snax" turning up online, which include as an optional ingredient "finely chopped herbal mixture" (compare the Alice B. Toklas brownie recipe popular in drug-culture circles).
One episode of A Pup Named Scooby-Doo reworked an early Scooby Doo Where Are You! episode by adding an anti-drug message to the story. Scooby also put in an appearance in the anti-drug special Cartoon All-Stars to the Rescue.
For his part, Joseph Barbera noted that the Scooby Snack was basically a combination of flavours, with hints of chocolate.