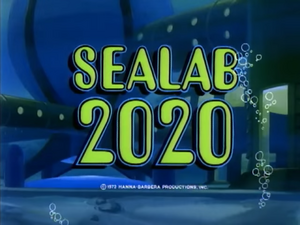 Sealab 2020 is an animated adventure series produced by Hanna-Barbera for NBC in 1972. It concerns the crew of an underwater laboratory. These scientists, led by Dr. Williams and Captain Murphy, study the undersea environment and help out sea creatures in need.
Only 13 episodes were produced. Cartoon Network later redubbed the series as Sealab 2021 for its Adult Swim block.
Sealab 2020 was released on DVD by Warner Home Video in early June 2012.
Voice cast
Episodes
Deep Threat
Green Fever
The Singing Whale
Lost
The Shark Lover
Backfire
The Basking Shark
Where Dangers Are Many
The Deepest Dive
The Challenge
Collision of the Aquarius
The Arctic Story
The Capture
External links