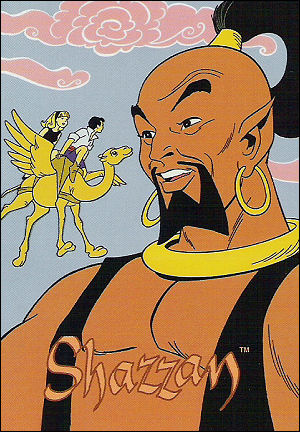 Shazzan, later called Shazzan!, is an animated adventure series, produced by Hanna-Barbera for CBS in 1967. It was created by comic artist Alex Toth.
Summary
Inside a cave, off the coast of Maine, Chuck and Nancy find a mysterious chest containing the halves of a strange ring. When joined, the ring forms the word, "SHAZZAN!", and with this magical command, they are transported to the fabled land of the Arabian Nights. Here, they meet their giant genie, Shazzan. Shazzan presents them with Kaboobie, a magical flying camel. Shazzan will serve them whenever they call, but he can not return them home, until they deliver the ring to it's rightful owner.
Powers
As a genie, Shazzan was incredibly powerful, and was partically invincible. His powers included
Reality warping
Shape shifting
Invulnerability
Energy blasts
Flight
Duplication
Teleportation
Voice cast
Episodes
Community content is available under
CC-BY-SA
unless otherwise noted.