Shirt Tales is a Saturday morning cartoon series produced in the 1980s by Hanna-Barbera, based on a series of greeting cards by Hallmark.
Overview
The Shirt Tales were a group of animals who wore shirts that showed expression of words on their shirt but they didn't wear pants, they lived in a hollow tree and, unknown to their human guardian, were crime fighters. They were Rick Raccoon, Tyg Tiger, Pammy Panda, Digger Mole, Bogey Orangutan and, in the second season, Kip Kangaroo.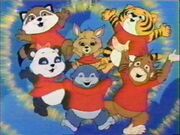 The Season 1 intro had music that sounded traditional to Hanna-Barbera, while the Season 2's opening had more of a disco sound.
Voice Cast
Episodes
Season 1
Season 2
Ep. #
Airdate
First segment
Second segment
1
17 September 1983
"Bogey Goes Ape"
"The Rain, the Park and the Robot"
2
24 September 1983
"Digger's Three Wishes"
"Digger's Double"
3
1 October 1983
"Kip's Dragon"
"Double Exposure"
4
8 October 1983
"Taj Mahal Tyg"
"Brass Bogey"
5
15 October 1983
"The Outer Space Connection"
"The Forbidden Island"
6
22 October 1983
"Saturday Night Shirt Tales"
"Dinkel's Buddy"
7
29 October 1983
"Pleasure Valley"
"The Ghost Out West"
8
5 November 1983
"T.J.'s Visit"
"The Big Set-up"
9
12 November 1983
"Kip's Toy Caper"
"Dinkel's Gift"
10
19 November 1983


(finale)

"Mayhem on the Orient Express"
"The Cuckoo Count Caper"
Rebroadcasts
After the initial run ended on NBC 8 September 1984, select episodes were rerun on CBS early in 1985, replacing The Biskitts. Reruns were pulled from the CBS airwaves - and broadcast television - since 23 March 1985, and was replaced by the return of The Biskitts, which continued being reran until 7 September 1985.
Reruns later aired as part of the Cartoon Express block on USA Network, and was later rerun on Cartoon Network. The series continues to be rebroadcast in other select countries, including foreign versions of Boomerang.
Home Video Releases
The series was released on VHS by Worldvision Home Video and Kids Klassics in 1986. The VHS release featured the first full episode from the second season and the first segment of another episode from the same season.
On 16 September 2014, Warner Archive released Shirt Tales: The Complete Series on Region 1 DVD.
External Links
Community content is available under
CC-BY-SA
unless otherwise noted.