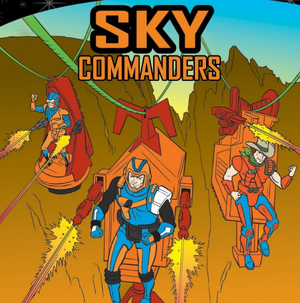 Sky Commanders is an action cartoon produced by Hanna-Barbera in 1987 for first-run syndication. The heroic soldiers ride mechanical vehicles on cables as they battle General Plague, who plots to conquer the world. When one end of a cable is lodged in a cliff or other natural formation, the cable is used as a zipline.
Voice cast
Episodes
Assault on Raider Stronghold
Back in the Fold
Marooned
Fresh Recruit
One on One
Divide and Conquer
Rescuers Need Rescuing
Terminal Temblor
S.O.S.
Turncoat
Deep Freeze
Firestorm
The Agony of Defeat
DVD release
On August 28, 2012, Warner Archive released Sky Commanders: The Complete Series on DVD in Region 1 as part of its Hanna–Barbera Classics Collection. This is a Manufacture-on-Demand (MOD) release, available exclusively through Warner's online store and Amazon.com.
External links