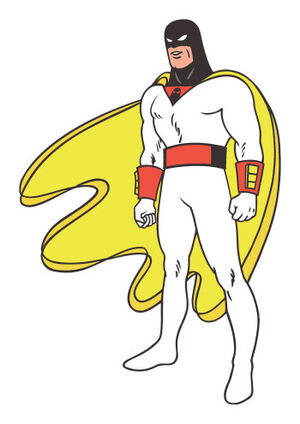 Space Ghost is the lead character of the series Space Ghost. He was originally voiced by Gary Owens.
About Space Ghost
He is a superhero who, with his sidekick teen helpers Jan, Jace, and Blip the monkey, fought supervillains in outer space. Space Ghost and his helpers fought such recurring supervillains as Moltar, Zorak, Black Widow, Metallus, Brak, and Creature King.
Other Appearances
Space Ghost and his sidekicks would later also appear in Space Stars in a newer series of their own segments, and cross over with characters from The Herculoids, Teen Force, and Astro and the Space Mutts in the finale segments. In these, Gary Owens reprised this role.
Space Ghost himself would become the host of his own talk show, Space Ghost Coast to Coast. Here, he was voiced by George Lowe.
Space Ghost and his sidekicks were also featured in the Batman: The Brave and The Bold episode, "Bold Beginnings!" Gary Owens reprised this role once again.
Space Ghost has an Easter Egg cameo appearance in the 2020 CGI Animated film, "Scoob!" The Brian Crowne Blue Falcon also has a similar design to Space Ghost in the film. Space Ghost appears in a Space Stars arcade game at the abandoned Funland amusement park game area in the background.
Gallery