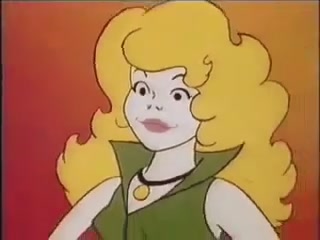 Taffy Dare (voiced by Laurel Page) is the blond Teen Angel on Captain Caveman and the Teen Angels.
About Taffy
Her hairstyle is based on that of Farrah Fawcett, and her soprano voice seems to have a bit of Southern accent. In nearly every episode, Taffy coaxes Captain Caveman into helping with her "Daffy Taffy" plan to trap the villain du jour. She has blonde hair and wears a green dress with matching shoes.
Taffy holds the middle position in the Teen Angels' hierarchy, below Dee Dee and above Brenda, and she appears to be Captain Caveman's favorite. She usually baby-talks to Caveman to get him to save them. When that doesn't work, giving him a kiss will.
At the start of the "Cavey's Mexicali 500" episode, Cavey is having a mildly erotic dream in which he and Taffy are alone on a small island, but sees Taffy being hoisted away by a giant pterodactyl. Cavey goes into action--but is rudely awakened.
Gallery
Community content is available under
CC-BY-SA
unless otherwise noted.