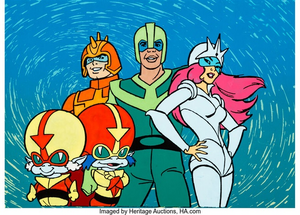 Teen Force is a segment on Space Stars. The Teen Force consisted of three young heroes who came from Black Hole X, described by narrator Keene Curtis as "the gateway into our dimension".
Elektra (B. J. Ward), a tall redhead woman in a silver suit, had mental powers including telekinesis and telepathy.
Kid Comet (Darryl Hickman), a fair-skinned man in an orange suit, was the leader of the trio. His super speed caused his body to take on the appearance of an actual comet.
Moleculad (David Hubbard), a black man in a green suit, had the power to change the molecular structure of any object, even his own body.
Accompanying the Teen Force were the Astro-Mites, Glax and Plutem (both voiced by Michael Winslow). Their main enemy was Uglor (Allan Lurie), a winged monster who sought to conquer the cosmos.