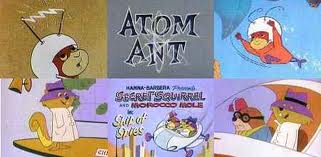 The Atom Ant/Secret Squirrel Show was an hourlong Saturday morning cartoon produced by Hanna-Barbera Productions from 1965 to 1967 for NBC.
Segments
Atom Ant
Overview
Episodes
Up and Atom
Crankenshaft's Monster
Gem-A-Go-Go
Ferocious Flea
Rambling Robot
Nobody's Fool
Atom Ant Meets Karate Ant
Fastest Ant in the West
Mistaken Identity
How Now Bow Wow
Dragon Master
The Big Gimmick
Super Blooper
Wild, Wild Ants
Dina-Sore
Amusement Park Amazement
Bully for Atom Ant
Termighty Mean
Nine Strikes You're Out
Go West Young Ant
Knight Fight
Pteraducktyl Soup
Up in the Air Squares
Mouse Rouser
Killer Diller Gorilla
Rock-a-Bye Boo-Boo
Secret Squirrel
Overview
Episodes
Sub Swiper
Masked Granny
Scotland Yard Caper
Robin Hood & His Merry Muggs
Wolf in Cheap Cheap Clothing
Royal Run Around
Yellow Pinkie
Five Is a Crowd
It Stopped Training
Wacky Secret Weapon
Cuckoo Clock Cuckoo
Catty Cornered
Leave Wheel Enough Alone
Jester Minute
Not So Idle Idol
Gold Rushed
Double Ex-Double Cross
Capt. Kidd's Not Kidding
Bold Rush
Tusk-Tusk
Robot Rout
The Pink Sky Mobile
Scuba Duba Duba
Hi-Spy
Spy in the Sky
Ship of Spies
Community content is available under
CC-BY-SA
unless otherwise noted.