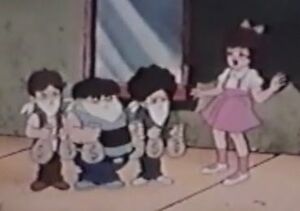 The Babyface Gang are a one-time group of characters in The Little Rascals animated series. Their only appearance was in "The Zero Hero", which served as the series finale. They were the last villains to appear in the series.
About the Gang
They were a trio of dwarf adult bank robbers (shorter than Darla, who was a child) who had escaped from prison, and had just robbed a bank in downtown Greenpoint.
The trio had encountered Captain Muscles and Darla Hood on their dream date, and deflated the fictional superhero's costume. The incident caused him to panic and run away, and Darla was being terrorized by the robbers.
Alfalfa assumed at first that the trio was Spanky, Buckwheat and Porky disguised as the robbers. When Darla told him who they really were, Alfalfa fainted and set off a telescoping channel changer invented by Buckwheat, thus pinning the robbers against a mailbox.