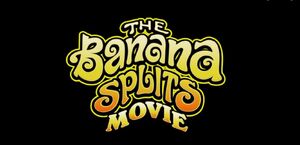 The Banana Splits Movie is a 2019 direct-to-video horror movie from Warner Bros. It was released 27 August 2019 after premiering at San-Diego Comic Con on 18 July earlier that year. It was first aired on the Syfy channel 12 October 2019 for the Halloween season. It was rated R by the MPAA for "horror violence and gore".
Summary
Harley and his family attend a taping of The Banana Splits live show for his birthday. However, the stars of the show turn out to be robots, and due to some form of malfunction, the four comedic and active animal musicians turn the laughter-fest into a slaughter-fest.
Cast
Eric Bauza as Fleegle, Bingo, Drooper, Announcer
Dani Kind as Beth
Finlay Wojtak-Hissong as Harley
Romeo Carere as Austin
Steve Lund as Mitch
Maria Nash as Zoe
Naledi Majola as Paige
Richard White as Stevie
Sara Canning as Rebecca
Celina Martin as Poppy
Kiroshan Naidoo as Thadd
Keeno Lee Hector as Jonathan
Lia Sachs as Parker
Lionel Newton as Karl
Daniel Fox as Andy
Jenna Saras as Parker's Mom
Lily Spangenberg as Sloppy Time Girl, Ashley
Vash Singh as Doug
Nicky Rebelo as Sal
Liza Scholtz as Zoe's Mom
Trivia
This is the first Hanna-Barbera movie that is a horror/thriller.
It is the first horror movie adapted from a preexisting children's property.
The movie's script was allegedly originally made for the upcoming Five Nights at Freddy's movie, which would explain why the movie's version of The Banana Splits are robots instead of actors in costumes. The script was turned into The Banana Splits Movie because Blumhouse got the rights to the FNAF movie, and Scott Cawthon didn't like the original script, saying that he wanted more in the FNAF movie than a typical setting where plush toys come to life.
The costumes themselves are reused costumes from The Banana Splits remake, but have slight upgrades on their appearance. For example, Drooper has bigger eyes.
Not counting the original unreleased version of Scooby-Doo, this is the first Hanna-Barbera movie to be given an R rating by the MPAA, due to the gory death scenes in the movie.

As Scooby-Doo was initially aiming for a PG-13 rating (before it was decided to go with a family-friendly PG rating after receiving an unexpected R rating when submitting the film), The Banana Splits Movie is different as it was planned to be R-rated from the start.
Community content is available under
CC-BY-SA
unless otherwise noted.