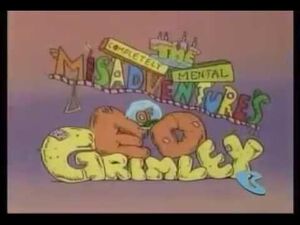 The Completely Mental Misadventures of Ed Grimley is an animated series produced by Hanna-Barbera for NBC in 1988. Likely a response to the CBS show Pee Wee's Playhouse, this series featured Martin Short as the character he introduced on the Canadian sketch comedy show SCTV and later took with him to Saturday Night Live.
Premise
Ed Grimley lived alone with his aggressive goldfish, Moby, and his pet rat, Nelson. His hero was Wheel of Fortune host Pat Sajak, he played the triangle, and he had the hots for Miss Tina Malone, an airhead voiced by another SCTV regular, Catherine O'Hara. Jonathan Winters voiced the short-tempered landlord Leo Freebus, and Short voiced Freebus' wife, the very proper Deidre. Joe Flaherty reprised his SCTV creation Count Floyd, who tried to spook an audience of bored children with his "scaaaary movies".
Voice cast
DVD release
On January 29, 2013, Warner Home Video released a two-disc "complete series" DVD set of Ed Grimley. The set is available only from Warner Bros.' online store.