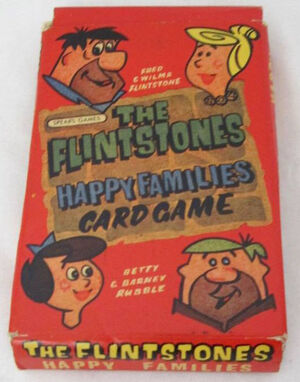 The Flintstones Happy Families Card Game is a juvenile card game. It was printed by J.W. Spear and Sons, based in England, circa 1960.
Overview
The cards depict Fred Flintstone, Wilma Flintstone, Barney Rubble and Betty Rubble engaged in various activities: hunting, fishing, cooking, playing music, etc. Each family set comprises all four characters with the same index letter in the upper left corner.
Curiously, the cards depict Wilma as a blonde, and Barney has green hair.
External Links