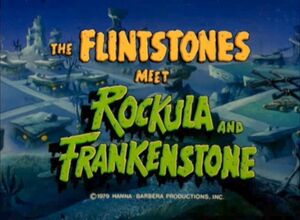 The Flintstones Meet Rockula and Frankenstone is an animated prime-time special featuring the Flintstones. It first aired 30 October 1979 on NBC.
Summary
The Flintstones and Rubbles win a trip on Make a Deal or Don't. Their destination is Count Rockula's castle in Rocksylvania, where they have an unpleasant meeting with the Count and his servant, Frankenstone.
Voice Cast
Credits
Executive Producers: William Hanna and Joseph Barbera
Producer: Alex Lovy
Associate Producer: Neil Balnaves
Director: Ray Patterson
Story: Willie Gilbert
Animation Director: Chris Cuddington
Layout Supervisor: Steve Lumley
Story Direction: Cullen Houghtaling, George Singer, Tom Yakutis
Character Design: Bob Singer, Gil DiCicco, Ed Benedict
Recording Director: Alex Lovy
Voices: Gay Autterson, Mel Blanc, Ted Cassidy, Henry Corden, Casey Kasem, Don Messick, John Stephenson, Jean Vander Pyl, Lennie Weinrib
Layout: Mike Trebert
Backgrounds: Richard Zaloudek, Jerry Liew, Ken Wright, Zenka Ebner, Rod Simpson, Milan Zahorsky
Animators: John Burge, Susan Beak, Martin Chatfield, Geoff Collins, Dick Dunn, Peter Eastment, Don Ezard, Arthur Filloy, Peter Gardiner, Gerry Grabner, Sebastian Hurpia, Greg Ingram, Pamela Lofts, Peter Luschwitz, John Martin, Henry Neville, Ray Nowland, Irena Slapczynski, Mike Stapleton, Jean Tych
Assistant Animation Supervisor: Paul Maron
Animation Checkers: Narelle Nixon, Lesley Blayney, Ellen Bayley
Xerography: Jack Pietruska
Paint: Narelle Derick
Color Stylist: Jenny Schowe
Cel Paint: Peter Greenwood
Special Effects: Murray Griffin
Camera: Virginia Browne, Mark D'Arcy-Irvine, Carole Laird, Gary Page
Editor: Robert Ciaglia
Production Manager: Doug Paterson
Production Control: Judy McLaughlin
Titles by: Fran Burke
Musical Director: Hoyt Curtin
Musical Supervisor: Paul DeKorte
Sound Directors: Richard Olson, Bill Getty
Supervising Film Editor: Larry C. Cowan
Dubbing Supervisor: Pat Foley
Music Editors: Tom Gleason, Terry Moore, Joe Sandusky
Effects Editors: Mark Green, Mark Mangini, David Stone, Robert Ciaglia
Sound Effects Supervisors: Sam Horta, Eileen Horta
Sound Effects Editing: Horta Editorial
Show Editor: Gil Iverson
Negative Consultant: William E. DeBoer
Post Production Supervisor: Joed Eaton
Animation Production: Hanna-Barbera Australia
External Links
Community content is available under
CC-BY-SA
unless otherwise noted.