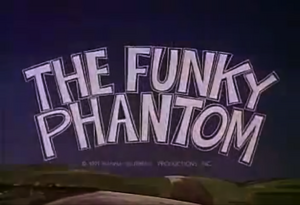 The Funky Phantom is a cartoon series produced by Hanna-Barbera for ABC in 1971.
Overview
Teenagers Augie, Skip and April released a 200-year-old ghost named Jonathan "Mudsy" Muddlemore, along with his ghostly cat, Boo, from a grandfather clock when one of them set the clock's hands to midnight. Mudsy and Boo joined the teens and their dog in a dune buggy called the Looney Duney, solving mysteries in the manner of Scooby Doo Where Are You!. Soon enough, the series began to develop its own identity by having the characters meet actual criminals instead of bad guys in masks, and most episodes would also have morals in them. In the comics, the characters encountered other ghosts besides Mudsy and Boo.
Voice cast
Episodes
Community content is available under
CC-BY-SA
unless otherwise noted.