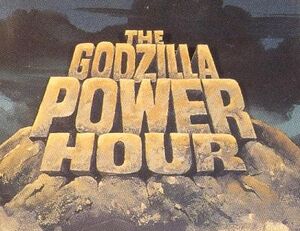 The Godzilla Power Hour aired on NBC in 1978. It consisted of Godzilla and Jana of the Jungle.
Overview
Unlike the Japanese movie character, the animated Godzilla (Ted Cassidy) was a 400-foot-tall amphibian that befriended the crew of a research ship after they rescued his younger relative, a cheerful dragon named Godzooky (Don Messick). The ship, led by Capt. Carl Majors and Dr. Quinn Darien, had two kids aboard named Pete and Brock, who often watched after Godzooky. The ship often ventured to dangerous areas to explore unknown corners of Earth, and when danger struck, either Captain Major or Quinn (or occasionally one of the kids) would use a sonic device to summon Godzilla.
Voice Cast
Episodes
Season 1
Season 2
Spoofs
In response to the Y2K hype, Cartoon Network created a short, "Godzilla vs. the Y2K Bug", in which the Calico is attacked by a personified Y2K Bug. The Godzilla calling device is useless because the crew forgot to update the embedded microchip.
Dr. Quinn Darien appeared as Dr. Gale Melody, a music expert, in the Harvey Birdman, Attorney at Law episode "Shoyu Weenie". She was voiced by Grey DeLisle.
Availability
All thirteen Godzilla episodes from the first season have been released on DVD, in three separate volumes titled Godzilla: The Original Animated Series. Volume 1 contains the first four episodes, Volume 2 contains the next four, and Volume 3 contains the last five.
As of 9 November 2011, all episodes of Season 1 are also available for streaming on Netflix and Hulu. Season 2 of Godzilla has never been officially released on any home media format.
Jana of the Jungle also has yet to see a DVD release.
External Links