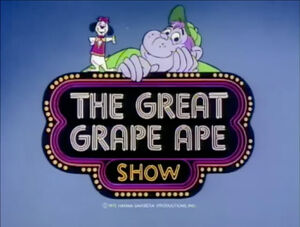 The Great Grape Ape Show is a series created by Hanna-Barbera for ABC as part of The Tom and Jerry/Grape Ape Show in 1975. As his name implies, Grape Ape (voice of Bob Holt) is a giant purple gorilla. His companion, Beegle Beagle (voice of Marty Ingels), often has to solve the problems Grape Ape accidentally causes with his lumbering gait and tremendous strength.
Episodes
With the exception of "S.P.L.A.T.'s Back", each episode of The Great Grape Ape Show consisted of two 10-minute stories.
"That Was No Idol, That Was My Ape"; "The All-American Ape"
"Movie Madness"; "Trouble at Bad Rock"
"Flying Saucery"; "Thar's No Feud Like an Old Feud"
"The Grape Race"; "The Big Parade"
"A Knight to Remember"; "S.P.L.A.T."
"G.I. Ape"; "The Purple Avenger"
"Grapefinger"; "Return to Balaboomba"
"Amazon Ape"; "Grape Marks the Spot"
"The Invisible Ape"; "Public Grape No. 1"
"The Incredible Shrinking Ape"; "What's a Nice Prince Like You Doin' in a Duck Like That?"
"Who's New at the Zoo"; "The Indian Grape Call"
"A Grape Is Born"; "The First Grape in Space"
"S.P.L.A.T.'s Back" (two-part episode)
"To Sleep or Not to Sleep"; "Olympic Grape"
"Ali Beagle and the 40 Grapes"; "Grape Five-O"
"The Purple Avenger Strikes Again"; "The Grape Connection"
"A Knight to Remember" and "S.P.L.A.T." were broadcast at noon ET Thursday, November 27, 1975, as part of ABC's Thanksgiving Day Funshine Festival.
Voice cast
Other appearances
Grape Ape was a member of Yogi Bear's team on Scooby's All-Star Laff-a-Lympics.
Charlton Comics published a two-issue Great Grape Ape comic book series in 1976.
Grape Ape and Beegle Beagle are among the Hanna-Barbera characters featured in MetLife's 2012 Super Bowl commercial.
Grape Ape makes a cameo appearance during the end credits of the 2020 film, Scoob! as a part of the Falcon Force.
Community content is available under
CC-BY-SA
unless otherwise noted.