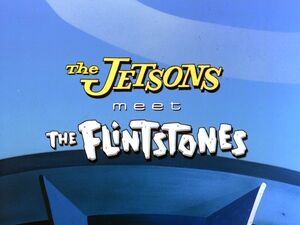 The Jetsons Meet the Flintstones is a 1987 animated TV movie originally produced as part of Hanna-Barbera Superstars 10. As the title suggests, it is a crossover between The Flintstones and The Jetsons.
Summary
In the future, while Elroy is busy working on a time machine, George Jetson comes to Mr. Spacely's office for a serious discussion. Spacely's business rival, Cogswell, has been stealing Spacely's business ideas under his nose, putting their jobs in jeopardy, Spacely orders George to go spy on Cogswell. George finds out that Cogswell's robot computer, S.A.R.A., has been seducing the Spacely robot computer, R.U.D.I., into leaking Mr. Spacely's secrets. George tries to report to Spacely, but R.U.D.I. won't let him.
In the Stone Age, Wilma and Betty are trying to convince Fred Flintstone to have their vacation in Honolurock. Fred, wise to their plan, ignores their advances and, tells Barney Rubble that he plans to take the girls someplace better. Mr. Slate wants Fred and Barney to work a late shift due to their carelessness, but instead they go to a poker game, hoping to use the winnings to go on holiday. Slate is also at the poker game however, so Fred and Barney try disguising themselves. Unfortunately, Fred loses to Slate, and he and Barney are exposed, so Slate fires them.
Back in the future, Elroy finishes his time machine. The Jetsons decide to use it to take a trip to the 25th century, as a way of relaxing themselves. Right before Elroy gets the machine working, Astro accidentally sets the switch to "Past".
With no job, the Flintstones and Rubbles are forced to settle for a camping holiday, and without food, as Dino has stowed away and eaten all the food they packed. As Fred and Barney set up the tent, the "Jetsons" arrive from the future. Initially mistaking each other for aliens, Fred and George eventually communicate and the families become fast friends. Fred is amazed by George's futuristic gadgets and decides to use them to help Mr. Slate at the competitions at the upcoming company picnic. Fred introduces George to Slate, claiming George is a distant cousin. Slate is reluctant at first to trust George, but since Mr. Tarpit's cheating has set him back in the competitions, Slate accepts their help in exchange for giving them their jobs back. George and Fred use George's gadgets to win the events. However, during the last event, which consists of catching a "pigasaurus" in the mud, Astro and Dino's continued chase scares the pigasaurus enough for it to jump into Tarpit's arms, making Tarpit the winner of the picnic. Enraged, Mr. Slate refuses to hire Fred and Barney again.
While Mr. Spacely continues to vent over his failing business, Henry and Rosey assemble a 'time machine retriever' to bring the Jetsons back. But when they get it to work, the time machine returns, with the Flintstones instead, the moment the Jetsons were taking a picture of them. At first, Henry, Rosey, and Mac mistake the newcomers for the Jetsons, and so does Spacely. But upon seeing they really are cavemen, Spacely introduces them to the press.
Stuck in the past, George asks Mr. Slate for a job. Slate initially rejects, but when Tarpit offers George a job himself, Slate immediately makes George his partner. George becomes famous. Using their newfound fame and riches, the Jetsons buy multiple local businesses. Pretty soon though, the Jetsons begin to get stressed and cannot handle owning so many businesses.
Mr. Spacely makes Fred the spokesman for his company, but R.U.D.I. accidentally leaks this information to S.A.R.A. When Spacely is introducing Fred to some important investors, Cogswell shows up and introduces Barney instead. Fred and Barney fight over jealously for taking all of the glory.
Meanwhile, Rosey requests R.U.D.I. to help her and Henry try to fix the time machine to find the Jetsons. S.A.R.A. arrives and demands that R.U.D.I. get rid of Rosey, but R.U.D.I. agrees that he'll do whatever he can to get the Jetsons back and leaves S.A.R.A. for good. They are able to make the time machine work, Rosey is transported to the Stone Age, and she finds her family.
Being able to return home, the Jetsons finally leave, taking Fred's car with them, after Judy says goodbye to an idol that she liked. Mr. Spacely concocts a brilliant idea to use Fred's car to invent futuristic replicas of them, and his business of selling Stone Age style cars become successful, much to Cogswell's dismay. Fred and Barney repair their friendship, and before they return home, George offers his partnership with Mr. Slate to give them their jobs back. Just as they are about to leave, Elroy tells them the time machine is broken and cannot be repaired. However, they're able to return to the Stone Age because their car absorbed the time machine's "quadrapotents". The Jetsons say a friendly farewell to their friends, the Flintstones and Rubbles.
Availability
The film was released on VHS three times, first by Worldvision Home Video, second Kid Klassics, and then Warner Home Video.
In July 2011, the film was released on DVD via Warner Archive Collection.
Voices
George O'Hanlon - George Jetson
Henry Corden - Fred Flintstone, Knight
Mel Blanc - Dino, Barney, Mr. Spacely
Penny Singleton - Jane Jetson
Daws Butler - Elroy Jetson, Cogswell, Mr. Orbit
Janet Waldo - Judy Jetson, Female Computer Voice
Jean Vander Pyl - Rosey, Wilma Flintstone
Brenda Vaccaro - DiDi

Jon Bauman

- Iggy Sandstone
Hamilton Camp - Turk Taprit
Don Messick - Astro, R.U.D.I., Mac, Announcer, Store Manager, Robot
John Stephenson - Mr. Slate, Morderator, Investor, Poker Player
Julie McWhirter - Betty, Jet Rivers, Investor, Panelist, Harem Girl
Frank Welker - Dan Rathmoon, Johnny, Mr. Goldbrick
Patric Zimmerman - Additional Voices
Credits
"The Jetsons Meet The Flintstones"
Executive Producers: William Hanna and Joseph Barbera
Producers: Bob Hathcock and Berny Wolf
Written by: Don Nelson and Arthur Alsberg
Supervising Director: Ray Patterson
Executive in Charge of Production: Jayne Barbera
Character Voices: Jon Bauman, Mel Blanc, Daws Butler, Hamilton Camp, Henry Corden, Julie Dees, Don Messick, George O'Hanlon, Penny Singleton, John Stephenson, Brenda Vaccaro, Jean Vander Pyl, Janet Waldo, Frank Welker, Patric Zimmerman
Creative Design: Iwao Takamoto
Design Supervisor: Jack White
Unit Head: Chris Otsuki
Character Design: Brian Hogan, Melanie Sowell
Music Composed and Conducted by: Sven Libaek
Director of Music Supervision: Joanne Miller
Recording Director: Gordon Hunt
Casting Director: Andrea Romano
Talent Coordinator: Kris Zimmerman
Director: Don Lusk
Animation Directors: Jay Sarbry, Frank Andrina, Oliver Callahan, Joan Drake, Bob Goe, Rick Leon, Don Patterson, Joanna Romersa, James T. Walker
Additional Animation Director: Glen Kennedy
Storyboard: Ron Campbell
Layout Supervisors: Jaime Diaz, Bill Diaz
Key Layout: Phil Lewis, Lorraine Marue, Bill Proctor
Key Background Supervisor: Al Gmuer
Key Backgrounds: Fernando Arce, Jonathon Goley, Patti Palmer, Jeff Richards, Gloria Wood
Graphics: Iraj Paran, Tom Wogatzke
Checking and Scene Planning: Paul B. Strickland
Character Color Key Supervisor: Alison Leopold
Color Key: Karen Greslie
Cel Painter: Michelle Urbano
Xerography: Star Wirth
Overseas Crew

Director: Kong Qing Chang
Animation Director: Gu Yan Hua
Assistant Animation Director: Sun Zhe
Animators: Xudong Ari, Zhang Wei Dong, Yang Ge, Li Hong, Deng Ben Quin, Lei Jian Chen, Ha Jian Jun, Hei Jun, Wang Li Pin, Tang Shao Shen, Yu Hai Yun, Hu Tian, Xiao Hua Zhou
Clean-Up Artists: Zhang Jian Jun, Gu Yan Hua, Ma Shou Hong
Layout Artists: Lei Jian Chen, Zhang Jian Jun, Li Wen Fang, Ma Shou Hong
Background Artists: Shang You Jun, Ting Caj, Lie Rui Ting
Final Checking: Yu Hei Rong, Xiau Wei Wen, Chen Yi, Deng Li Hua
Camera Supervisor: Wei Wen Xiao
Colorists: Qiu Jian Pin, Cai Yi Tao, Xiau Wei Wen

Program Administrator: Barbara Simon Dierks
Production Assistants: Mark Lesser, Sandy Benenati, Vicki Casper, Erika Grossbart, Debby Lathrop-Robbins, Ginger Robertson, Robin Strickland

"Bedrock Rock"

Music by: Hoyt Curtin
Lyrics by: William Hanna

Sound Direction: Alvy Dorman, Stan Wetzel
Supervising Film Editor: Larry C. Cowan
Dubbing Supervisor: Pat Foley
Show Editor: Gil Iverson
Negative Consultant: William E. DeBoer
Post Production Supervisor: Joed Eaton
Music Editor: Joe Sandusky
Sound Editors: Catherine MacKenzie, Michele Iverson, Tim Iverson, David M. Cowan, Brian Baker, Peter Collier, Jerry Winicki
Sound Editing: Horta Editorial and Sound, Inc.
Produced in Association with: Wang Film Productions Co., Ltd., Cuckoo's Nest Studio, Shenzhen Jade Animation Co., Ltd., Pacific Rim Productions, Inc.
Animation Supervisor: Janine Dawson
Technical Advisor: Lynn Hoag
Production Supervisor: Bob Marples
This picture has made the jurdisction of I.A.T.S.E.IA, affiliated with A.F.L.-C.L.O.
© Copyright 1987 Hanna-Barbera Productions, Inc. All Rights Reserved
Trivia
Pebbles and Bamm-Bamm don't appear in this movie. This suggests that this movie takes place either before the events of the third season of The Flintstones (when Pebbles was born), or when Pebbles and Bamm-Bamm were in college.
The instrumental of "

Rockin' Round the Galaxy

", a song featured in the later Rockin' with Judy Jetson, can be heard when the families arrive at the company picnic.