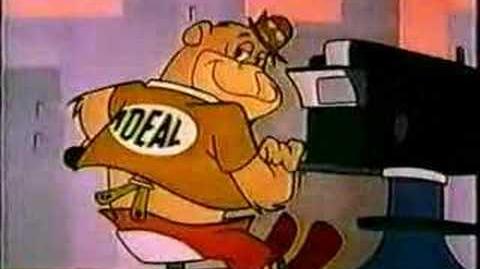 The Magilla Gorilla Show was produced by Hanna-Barbera for Screen Gems in 1964, first for syndication, and later for ABC, with Allan Melvin and Howard Morris as lead voices. It was also one of the first animated TV series produced under the sponsorship of a toy company (Ideal Toys).
Overview
Magilla lived in a pet shop owned by Mr. Peebles, who tried desperately to sell him. Whenever Magilla was sold, he was taken to some comic misadventure and inevitably returned to the pet shop.
Magilla was most often purchased by thieves. The only customer who was truly interested in obtaining the trouble-prone ape for good was a little girl named Ogee (so named because of her catch phrase, "Oh, gee!"). Unfortunately, she could never persuade her parents to let her keep Magilla.
The show's supporting segments were Punkin Puss & Mushmouse and Ricochet Rabbit & Droop-a-Long.
Voice cast
Episodes
Big Game
Gridiron Gorilla
Private Magilla
Bank Pranks
Groovey Movie
Airlift
Come Blow Your Dough
Mad Scientist
Masquerade Party
Come Back, Little Magilla
Fairy Godmother
Planet Zero
Prince Charming
Motorcycle Magilla
Is That Zoo?
Bird Brained
Circus Ruckus
Camp Scamps
The Purple Mask
Love at First Fight
Pet Bet
Makin' with the Magilla
High Fly Guy
Deep Sea Doodle
That Was the Geek That Was
Montana Magilla
Magilla Mix-Up
Wheelin' and Deal
Mad Avenue Madness
Beau Jest
Super Blooper Heroes
External links