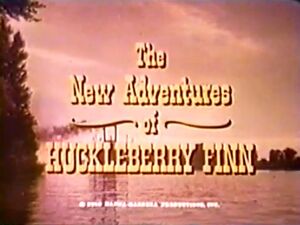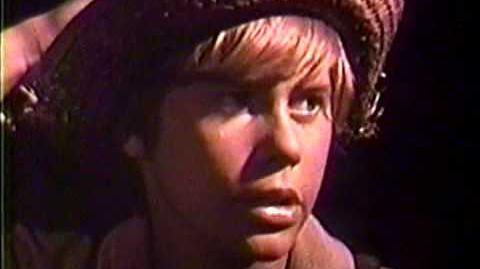 The New Adventures of Huckleberry Finn was produced by Hanna-Barbera for NBC in 1968. Based on characters created by Samuel L. Clemens (writing as Mark Twain), it was the only Hanna-Barbera series to have live child actors interact with animated characters. The series was later absorbed into the syndication package of The Banana Splits and Friends Show.
Premise
Every episode started with film footage of Huck Finn, Tom Sawyer and Becky Thatcher pursued by Injun Joe. As the three children entered a cave to escape Injun Joe, they were caught in a time vortex that took them to a different place and time period. After they left the vortex, Huck, Tom and Becky were still live children, but they now interacted with animated characters, such as Hercules, King Arthur or Don Quixote.
Cast
Live actors
Animation voices
Episodes
The Magic Shillelagh
Huck of La Mancha
The Terrible Tempered Kahleef
The Little People
Pirate Island
The Last Labor of Hercules
The Gorgon's Head
Castle of Evil
Hunting the Hunter
The Curse of Thut
The Ancient Valley
Menace in the Ice
The Eye of Doorgah
Mission of Captain Mordecai
The Jungle Adventure
Son of the Sun
Prophecy of Peril
Strange Experiment
The Conquistador Curse
All Whirlpools Lead to Atlantis
DVD release
On May 26, 2016, Warner Archive announced a DVD release of The New Adventures of Huckleberry Finn: The Complete Series. The manufacture-on-demand title will become available on June 28.
External links