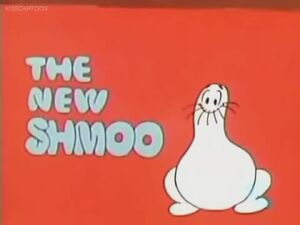 The New Shmoo was produced by Hanna-Barbera for NBC in 1979. The Shmoo, originally a character in the Li'l Abner comic strip, left Dogpatch to join three teenage detectives in yet another of the comedy-mystery cartoons for which the studio was then well known. Emerging at the tail end of the '70s, it is the last of the studio's Scooby clones.
The Shmoo later joined Fred Flintstone and Barney Rubble in the Bedrock Cops segments of The Flintstone Comedy Show, also on NBC, in 1980.
Trivia
This was the last of three Scooby clones to be based on pre-existing properties. The previous others being Josie and the Pussy Cats and The Amazing Chan and the Chan Clan.
This was one of the first to feature Hanna-Barbera Productions' original swirling star logo before the intro and after the end credits.
This marks the first appearance of the Shmoo character in animation.
Voice Cast
Episodes
The Ber-Shmoo-Da Triangle
The Crystal Ball of Crime
Dr. Morton's Monster
The Energy Robbers from Space
The Flying Disc of Doom
The Haunting of Atlantis
Monster Island
The Terror of the Trolls
The Valley Where Time Stood Still
External Links