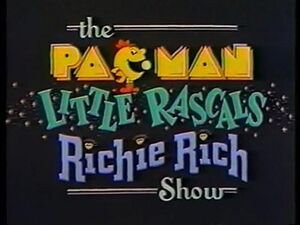 The Pac-Man/Little Rascals/Richie Rich Show was a 90-minute block that ran on ABC Saturday mornings in the 1982/83 season. Although Pac-Man was billed first in the umbrella title, his segments were reserved for the last half hour.
The closing credits for Pac-Man were separate from those for The Little Rascals and Richie Rich.
Ownership
Because the animated series of The Little Rascals was a co-production between Hanna-Barbera and King World, its ownership is disputed between Warner Bros. and CBS Media Ventures, precluding any U.S. cable reruns or home video releases. Pac-Man and Richie Rich have been incorporated into the Warner Bros. animation library due to corporate changes involving Hanna-Barbera.
Segments
This is the segment order for each 90-minute installment:
The Little Rascals I (11 minutes)
Richie Rich Riches (7 minutes)
Richie Rich Gems (30 seconds)
Richie Rich Treasure Chest (3 minutes)
The Little Rascals II (11 minutes)
The Little Rascals vignette (30 seconds)
Richie Rich Zillion-Dollar Adventures (11 minutes)
Pac-Man I (11 minutes)
Pac-Mania vignette (30 seconds)
Pac-Man II (11 minutes)
Trivia
New Richie Rich segments were produced up to and including the eighth episode of the season, but from the ninth episode to the end of the season, rebroadcasts of all the segments – except for Richie Rich Gems – were aired. It could be inferred that the animators' strike of 1982 may have resulted in further production of new Richie Rich segments for that season to prematurely cease, thus prompting reruns of the Riches, Treasure Chest and Zillion Dollar Adventures segments to fill the last five episodes. The selection of segments to be rebroadcast may have been determined by ratings from previous seasons.