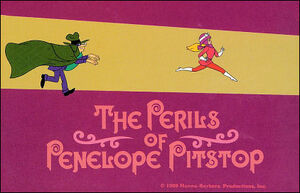 The Perils of Penelope Pitstop is one of two Hanna-Barbera series spun off from Wacky Races in 1969 for CBS. Here Penelope Pitstop is an heiress protected by The Ant Hill Mob. She gets continually pursued and captured by her guardian, Sylvester Sneekly, in the guise of the Hooded Claw, in the vein of a silent movie in 1912.
Voices
Episodes
There are 17 episodes but there is only one season made.
Jungle Jeopardy
The Terrible Trolly Trap
The Boardwalk Booby Trap
Wild West Peril
Carnival Calamity
The Treacherous Movie Lot Plot
Arabian Desert Danger
The Diabolical Department Store Danger
Hair Raising Harness Race
North Pole Peril
Tall Timber Treachery
Cross Country Double Cross
Big Bagdad Danger
Bad Fortune in a Chiness Fortune Cookie
Big Top Trap
Game of Peril
London Town Treachery
DVD Release
On May 10, 2005, Warner Home Video has released the complete series on DVD.
DVD Name
Ep #
Release Date
Additional Information

The Perils of Penelope Pitstop

17
May 10, 2005

A bonus collectible animation cel
Commentary on various episodes
Featurette: The Players in "Perils" featurette on the great escapes of Penelope and other characters
Penelope Pitstop's Spin Outs retrospective
Credits
Produced and Directed by: Joseph Barbera and William Hanna
Sequence Director: Jim Davis
Executive Producer: Hal Geer
Associate Producer: Alex Lovy
Story: Joe Ruby, Ken Spears, Mike Maltese, Hal Geer
Story Direction: Alex Lovy, Earl Klein, Bill Perez, Howard Swift
Voices: Janet Waldo, Mel Blanc, Don Messick, Paul Winchell, Gary Owens, Paul Lynde
Animation Director: Charles A. Nichols
Production Design: Iwao Takamoto
Production Supervisor: Victor O. Schipek
Character Design: Jerry Eisenberg
Layout: Jack Huber, Willie Ito, Takashi Masunaga, Lance Nolley, Joel Seibel, Terry Slade, Grace Stanzell
Animation: Ed Barge, Bob Bransford, Ken Champin, Jim Davis, George Goepper, Jerry Hathcock, Mike Houghton, Volus Jones, Dick Lundy, Bob Matz, Norm McCabe, Ed Parks, Sonja Ruta
Background Stylist: Walt Peregoy
Backgrounds: Fernando Arce, Cathy Clark, Dave High, Thelma Witmer, Richard Thomas
Title Design: Bill Perez
Titles: Robert Schaefer
Music Director: Ted Nichols
Technical Supervisor: Frank Paiker
Ink and Paint Supervisor: Roberta Greutert
Xerography: Robert "Tiger" West
Sound Direction: Richard Olson
Film Editors: David Horton, Joe Sandusky, Jim Champin
Camera: John Aardal, Ralph Migliori, George Epperson, Charles Flekal, Cliff Shirpser, Dennis Weaver
A Hanna-Barbera Production
This picture made under the jurisdiction of IATSE-IA, Affiliated with A.F.L.-C.I.O.
RCA Sound Recording
© 1969 Hanna-Barbera Productions, Inc.
Community content is available under
CC-BY-SA
unless otherwise noted.