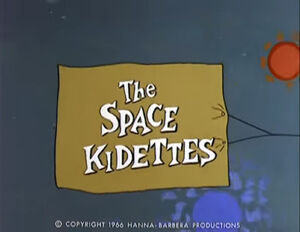 The Space Kidettes is the backup segment of Young Samson. It involves a group of spacefaring children and their dog, who were pursued by the space pirate Captain Skyhook and his henchman, Static.
Captain Skyhook was continually seeking a treasure map that he supposed was in the children's possession. Whenever Static suggested torturing the children in some manner, the captain always reprimanded him by saying, "You can't do that! They're just itty-bitty kids!"
Broadcast
The show aired on NBC as a half-hour program from 10 September 1966 to 4 February 1967. It was sponsored by General Mills.
The episodes were later edited down to ten-minute episodes. They were paired with other cartoons sponsored by General Mills (though not produced by Hanna-Barbera), such as Tennessee Tuxedo and His Tales and Go Go Gophers, in order to form a full half-hour for syndication. In the mid-1980s, USA Network's USA Cartoon Express aired episodes of Space Kidettes as part of the package.
Voice Cast
Episodes
Jet Set Go
Space Indians
Swamp-Swamped
Space Heroes
Space Witch
Tale of a Whale
Space Carnival
The Laser-Breathing Space Dragon
The Flight Before Christmas
Beach Brawl
Dog-napped in Space
King of the Space Pirates
Planet of Greeps
Cosmic Condors
Haunted Planet
Something Old, Something Gnu
Trivia
The character Snoopy was most likely not inspired by the famous dog in the comic strip Peanuts.