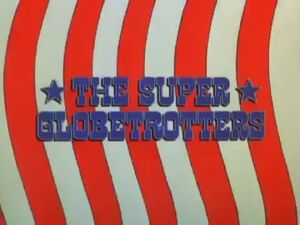 The Super Globetrotters is Hanna-Barbera's follow-up series to The Harlem Globetrotters, produced for NBC in 1979.
Overview
In this iteration, the Globetrotters were superheroes with powers borrowed from the Impossibles. In every episode, the Globetrotters received instructions from a satellite called the Crime Globe, which happened to resemble a basketball, met a bizarre villain, and challenged him and his minions to a basketball game.
Voice cast
Episodes
Museum Man
Bwana Bob
The Facelift
Whaleman
Robo and the Globots
Tattoo Man
Movie Man
The Phantom Cowboy
The Time Lord
Transylvania Terrors
Bullmoose
Merlo the Magician
Attila the Hun
DVD release
On October 28, 2014, Warner Archive Collection released The Super Globetrotters: The Complete Series as a manufacture-on-demand DVD set.