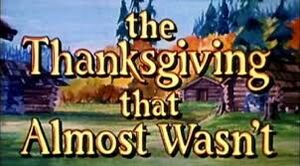 The Thanksgiving That Almost Wasn't is an animated special produced by Hanna-Barbera in 1972.
Plot
A talking squirrel must save the holiday by rescuing a young Pilgrim boy and a young Native American boy who have gone missing in the woods on Thanksgiving Day.
Voice cast
Kevin Cooper
Marilyn Mayne
Bobby Riha
Singers
Joann Albert
Bob Joyce
Ida Sue McCune (credited as Susie McCune)
Gene Merlino
Robert Tebow
External links
Community content is available under
CC-BY-SA
unless otherwise noted.