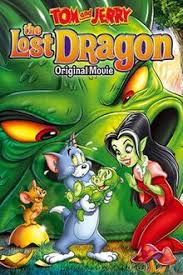 Tom and Jerry: The Lost Dragon is a direct-to-video animated film starring Tom and Jerry. It was released in 2014.
Summary
Your favorite cat and mouse are back with song, sorcery and slapstick in this enchanted tale with two bonus cartoons. The adventure begins when Tom and Jerry happen upon a mysterious glowing egg. Little do they know, this egg was stolen from a very large fire-breathing dragon!
In a short time, baby Puffy hatches from his egg and takes Tom as his mommy. The angry mama dragon wants her baby back, but she's not the only one...a powerful witch named Drizelda captures the baby dragon for her own wicked plans! With the help of powerful allies and animal friends, Tom and Jerry must fight tooth and claw to stop the witch and get the baby dragon back to its mother. The action takes flight in a climactic ending filled with might, magic and cartoon mayhem, of course!
Voice Cast
Dee Bradley Baker as Buster and the elf boy
Jim Cummings as Kaldorf
Jess Harnell as Pan
Wayne Knight as the elf elder
Vicki Lewis as Drizelda
Richard McGonagle as Alley
Laraine Newman as the elf elder's wife
Jonny Rees as Tin (credited as Greg Ellis)
Kelly Stables as Athena and Puffy
External Links
Community content is available under
CC-BY-SA
unless otherwise noted.