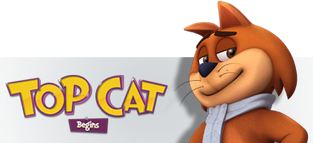 Top Cat Begins (original Spanish title Don Gato: El Inicio de la Pandilla) is an Indian-Mexican animated film that was released in 2015, starring Top Cat and his feline gang.
Plot
The film is an origin story, explaining how Top Cat met Benny the Ball and how he created his gang. Top Cat has arrived to charm his way into your hearts!
Ever wonder how this scheming feline got his start? "Top Cat Begins" reveals the origins of everything you know and love about this classic comedy hero. From the discovery of his trademark hat, to his first run-in with Officer Dibble, to the gathering of his loyal gang, this rip-roaring comedy answers it all! And what use, and what fun, would his wacky band of misfits be if they couldn't help get Top Cat in and out of trouble? Like Top Cat's "smartest idea": relieving Mr. Big, the city's most dangerous kingpin of crime, of his precious diamonds. What follows is an adventure so crazy that it has to be seen to be believed!
Cast
External links