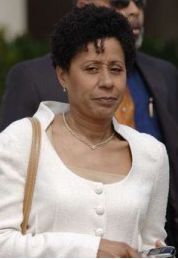 Vernee Christell Watson-Johnson (born 14 January 1954, North Trenton, New Jersey) is an African-American actress. She is best known for playing Will Smith's mother Viola "Vy" Smith in the NBC sitcom The Fresh Prince of Bel Air. Her first and most famous voice role for Hanna-Barbera was Dee Dee Skyes in Captain Caveman and the Teen Angels. She also had guest roles in The World's Greatest Superfriends and A Pup Named Scooby-Doo.
Trivia
Watson-Johnson appeared in The People's Court in the mid-1980s when a former acting student sued her because the student was not getting any acting job offers. She won the lawsuit.
In May 2005, Watson-Johnson testified on behalf of the defense in pop singer Michael Jackson's trial on charges of child molestation.
External Links