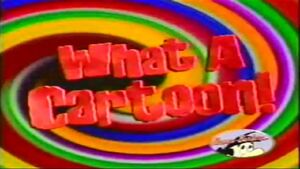 What a Cartoon! is an American animation showcase series created by Fred Seibert for Hanna-Barbera Cartoons, which aired on Cartoon Network. The project consisted of 71 short cartoons, intended to return creative power to animators and artists, by re-creating the atmospheres that spawned the great cartoon characters of the mid-20th century. Each of 71 short cartoons mirrored the structure of a theatrical cartoon, each film based on an original storyboard drawn and written by its artist or creator.
The series first aired 20 February 1995, promoted as World Premiere Toons. During the original run of the shorts the series was retitled The What a Cartoon! Show until the final short aired 17 August 2001. The last cartoon short part of the show with Hanna-Barbera's involvement would be Thrillseeker: Putt 'n' Perish (2000).
The project served as the launching point for multiple successful Cartoon Network series. The series is influential for birthing a slew of original Cartoon Network hits and helping to revive television animation in the 1990s. Once it had several original series, those became the first Cartoon Cartoons.
Spin-off Series
The following Cartoon Network series originated in The What a Cartoon! Show:
Mike, Lu & Og

Sheep in the Big City

Codename: Kids Next Door
External Links