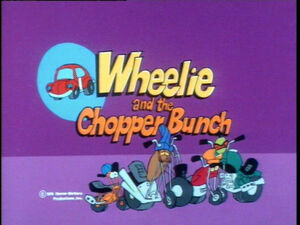 Wheelie and the Chopper Bunch is a Saturday morning cartoon produced by Hanna-Barbera in 1974 for NBC.
Overview
This series is unique in that all the characters are talking motor vehicles, except for Wheelie himself, a cheery Volkswagen that communicates by sounding his horn and displaying messages on his windshield. No humans are ever shown.
Each episode consisted of two stories. Typically, Wheelie would attempt some task and be pursued by the Chopper Bunch, a gang of talking motorcycles. Their plots against Wheelie never succeeded.
Voice cast
Episodes
Get a Doctor
A Day at the Beach
Ghost Riders
Double Cross Country
The Stunt Show
Razzle Dazzle Paint Job
The Autolympics
The Delivery Service
The Infiltrator
The Big Bumper
Surprise Party
On the Town
Black Belt Fuji
Our Hero
Wheelie Goes Hawaiian
The Inspection
The Old-Timer
The Copter Caper
Dr. Crankenstein
Bulldozer Buddy