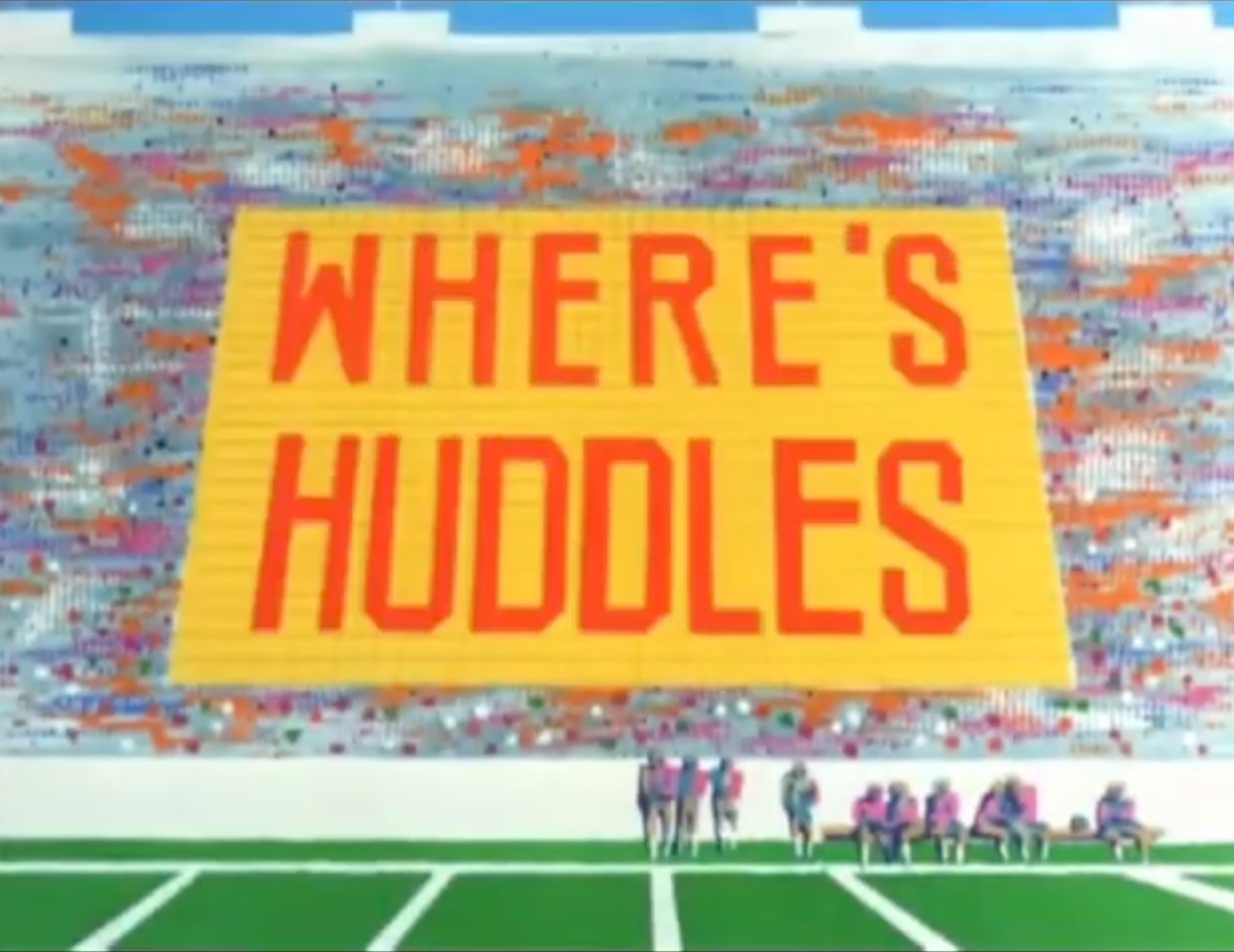 Where's Huddles? is an animated prime-time sitcom, produced as a summer replacement by Hanna-Barbera for CBS in 1970. It replaced The Glen Campbell GoodTime Hour.
Overview
The show's premise involved a professional football quarterback named Ed Huddles (voiced by Cliff Norton) and his neighbor, the team's center, Bubba McCoy (voiced by Mel Blanc). They played for a team called the Rhinos.
Other characters included Ed's wife, Marge Huddles (voiced by Jean Vander Pyl); their acerbic neighbor, Claude Pertwee (voiced by Paul Lynde), who tended to refer to Ed and Bubba as "savages" (Pertwee's only friend is a spoiled cat named Beverly); their teammate Freight Train (voiced by Herb Jeffries), and their daughter, Pom-Pom. Alan Reed had a recurring role as Mad Dog Mahoney, the Rhinos' coach. The Huddles had a dog named Fumbles, voiced by Don Messick.
This series reused both voice talent and plots from The Flintstones, as Bubba, Marge and Mad Dog.
Voice Cast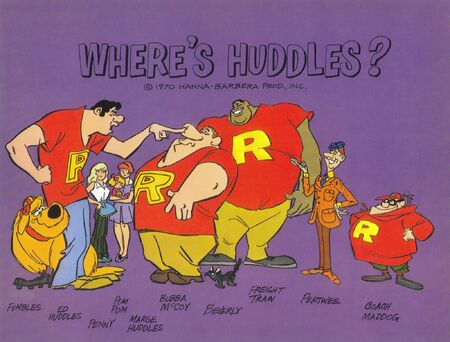 Episodes
(Dates in parentheses refer to that of its original broadcast over CBS.)
The Old Swimming Hole (7/1/1970)
A Weighty Problem (7/8/1970)
The Ramblin' Wreck (7/15/1970)
The Offensives (7/22/1970)
Hot Dog Hannah (7/29/1970)
To Catch a Thief (8/5/1970)
Get That Letter Back (8/12/1970)
The Odd Trio (8/19/1970)
A Sticky Affair (8/26/1970)
One Man's Family (9/2/1970)
End Credits Stills
Pilot Animatic
A pilot animatic for Where's Huddles? (YouTube video) has a few differences from the series:
Appearances in other series
Availability
On July 26, 2016, Warner Archive released Where's Huddles? The Complete Series as a manufacture-on-demand title.
External Links