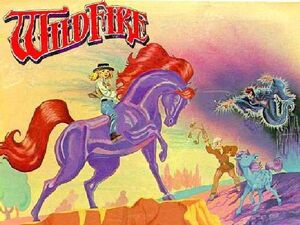 Wildfire is an animated adventure series produced by Hanna-Barbera for CBS in 1986.
Summary
Once upon a time, a loved and beautiful queen called Sarana was about to marry Prince Cavan. Sarana was the sovereign of the kingdom of Dar-Shan, a magic world placed in a different dimension from the Earth.
But Queen Sarana's stepsister, Diabolyn, wanted the crown, and cursed the couple. Sarana and Cavan would be together only one year. After this time, both would die, like their first child.
One year later, the king and the queen had a daughter, Sarah. But the curse started to work. The queen fell ill and, on her deathbed, she decided to send her daughter far from Dar Shan to save her life. She entrusted the girl to Wildfire, a noble horse, to bring Sarah to the Earth with King Cavan, who had lost his memory and was in his new home with a new name, John Cavanaugh.
Wildfire left Sarah in a basket, with a magic amulet as her only link with her previous life.
Sarah grew up, without knowing that she was a princess. But when she was 13 years old, her amulet started to shine. It was Wildfire that appeared to show Sarah her true identity and to bring her to Dar Shan.
There she met Dorin and Brutus, Alvinar and Sanctuary Horses, that help Sarah in her mission: preventing her Aunt Diabolyn from becoming the new queen of Dar Shan.
Broadcast History
The first time Wildfire aired on TV was 13 September 1986 on CBS. It aired in Spain on Telecinco on 1988 as "Fuego Salvaje", in France on FR3 in 1990 ("Le Cheval de feu"), and in Brazil on SBT on 2001 ("Cavalo de Fogo").
Voice Cast
Episodes
External Links