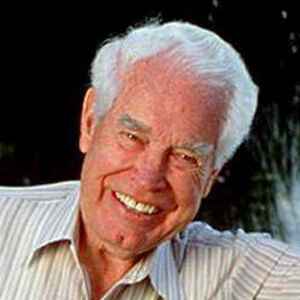 William Denby "Bill" Hanna (14 July 1910 – 22 March 2001) was an American animation producer and the senior partner in Hanna-Barbera.
Biography
A native of Melrose, New Mexico, Hanna moved with his family several times in his childhood. His father was the superintendent of construction for the early Santa Fe railroads, so the family moved from one train stop to another as work required. Some of the women in Hanna's family were writers; his mother wrote poetry, his sister published short stories, and an aunt wrote country songs for radio.
During his childhood, Hanna lived at various times in Baker, Oregon; Logan, Utah; San Pedro, California; and finally Los Angeles. At age twelve, Hanna began his lifelong involvement with the Boy Scouts.
Hanna attended high school in Compton, California, where he studied journalism and mathematics, played sports and began his film career with Hugh Harman and Rudolf Ising. While at Harman-Ising, Hanna started as a cel painter, and later wrote for the Looney Tunes and Merrie Melodies animated shorts, which Harman and Ising were producing for Warner Bros.
In 1933, Hanna chose to stay with Harman and Ising after they severed their contract with Leon Schlesinger. After the Harman-Ising studio signed a new contract with MGM, Hanna joined their writing staff, contributing music and lyrics to animated musicals.
In 1937, MGM started its own animation unit and put Fred Quimby in charge. Quimby hired people from Harman-Ising for MGM's own animation staff, and Hanna was among the first of them. Quimby's search for New York animators and story men brought Joseph Barbera and other employees of Paul Terry to the MGM studios.
Hanna and Barbera first worked together on "The Captain and the Kids", a series of cartoon shorts based on the popular newspaper comic strip. "The Captain and the Kids" was poorly received, but Hanna and Barbera found greater success with Tom and Jerry. The two would also produce seven Droopy cartoons following Quimby's retirement from his role as producer.
Hanna died of throat cancer in 2001 at the age of 90.