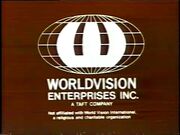 Worldvision Enterprises, Inc. was a television program distributor founded in July 1953 as ABC Film Syndication, the domestic and international program distribution arm of the American Broadcasting Company. Instead of producing their own programs, ABC primarily licensed various series from independent producers.
The company modified their moniker as ABC Films in 1959. In the early 1970s, because of the recent fin-syn rules, the FCC prohibited networks from handling syndication of their own programming. As a result, ABC Films spun itself off adopting the name of their international division known as Worldvision, starting on March 30, 1973.
In 1979, after 6 years as an independent distributor, Worldvision was acquired by Taft Broadcasting Company, the then-parent company of Hanna-Barbera, becoming the primary distributor of Hanna-Barbera titles throughout the 1980s.
During this time frame, Worldvision Home Video released several Hanna-Barbera titles to video and laserdisc, among other releases. Worldvision was also instrumental in the licensing of a majority of the Carolco Pictures feature film library for television.
In 1988, parent company Taft changed their name and was known as Great American Broadcasting Co. Great American later sold much of the Taft Entertainment Company, including Worldvision, to Aaron Spelling Productions. Hanna-Barbera, who was sold to Tuner Entertainment, continued syndicating their shows through Worldvision through the end of the 1991-92 season. In later years, Spelling consolidated his companies and Worldvision, as a wholly functioning unit, eventually dissolved and folded into Republic Pictures (which Spelling bought in 1994), although Worldvision as a TV distributor continued for many years after, until Spelling/Republic merged with Viacom International (now CBS Corporation) in 1999, the same year Viacom announced its acquisition of said former parent CBS (completed in 2000). These mergers allowed Viacom to become the second-largest media conglomerate in the world. The Worldvision backlog of programs are currently controlled by Spelling Television, Inc. - the rights to most of the Taft Entertainment library were included.
FremantleMedia acquired some of Worldvision's program catalog for certain territories outside the U.S.
Community content is available under
CC-BY-SA
unless otherwise noted.